Goal setting is a core principle that many successful individuals attribute to their achievements. Without a clear vision of what you want to accomplish, it can be challenging to prioritise and stay on track to reach your desired outcome. Fortunately, the Wheel of Life is an effective goal-setting tool that life coaches, and coaches from all niches, can use with their clients that can help build a structured plan to achieve results in the areas of life that matter most.
The Wheel of Life is a simple yet powerful visual representation of the key areas of your life. It's a circle divided into sections that represent different aspects of your life, such as career, health, relationships, finance, personal growth, and more. By assessing each area of your life on a scale of 1-10, you can gain a clear understanding of where you stand and identify which areas need improvement.
Once you've identified the areas that require attention, you can use the Wheel of Life to break down your goals into smaller, more manageable steps. This process helps to prevent feeling overwhelmed by the task at hand and helps you stay motivated by setting achievable milestones.
Below is a Wheel of Life infographic we created to provide a more detailed overview of this process: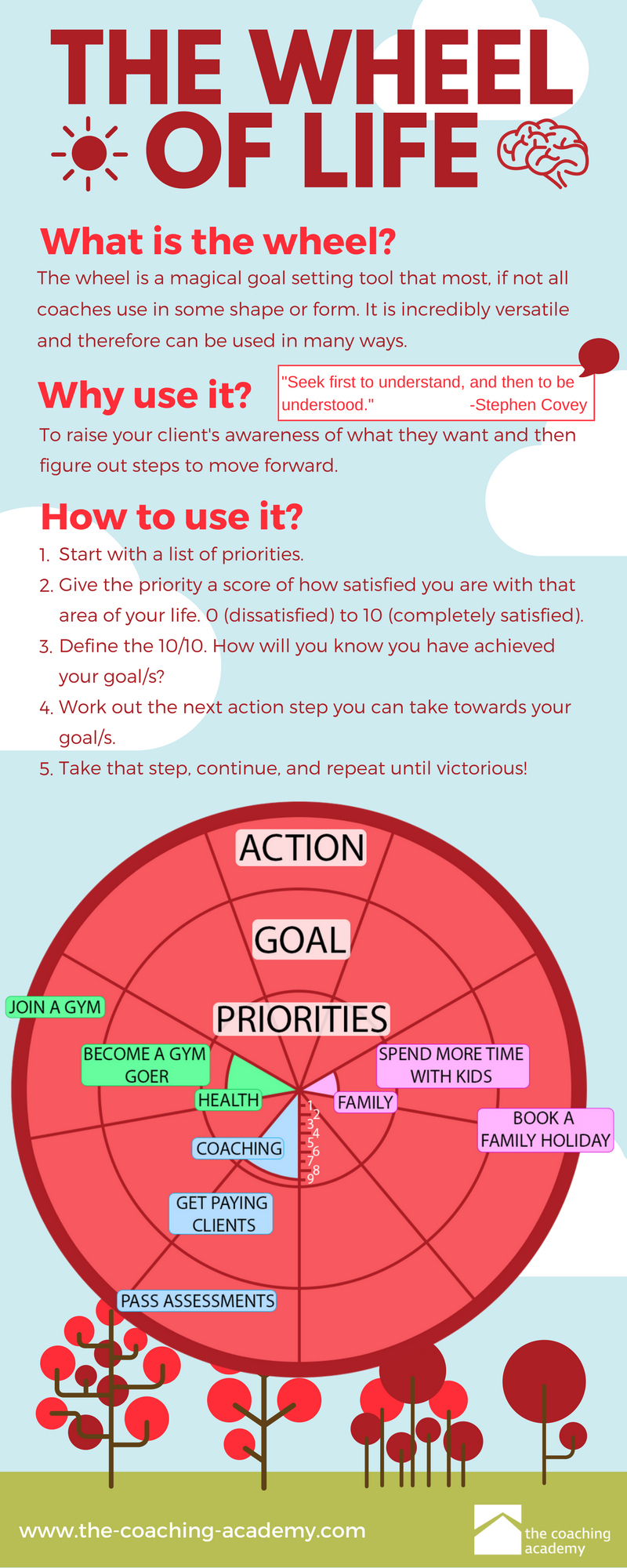 The Wheel of Life is a powerful tool that coaches can use to help clients to identify the areas of their lives that need attention and focus. It is particularly useful for those who come to coaching sessions with a general sense that something needs to change, but cannot pinpoint exactly what it is. By filling in the eight segments with areas of their life, such as career, relationships, health, finance, and personal development, clients can gain clarity on where to focus their attention and energy.
In addition, the Wheel of Life can be valuable for clients who feel overwhelmed by the many areas of their lives they wish to change. With its visual representation of the different areas, clients can clearly see which aspects of their life are most important to them and can use this information to prioritise their goals and actions.
Although traditionally used as a 'life coaching' tool, the beauty of the Wheel of Life is that coaches can adapt it to any coaching niche, whether it is relationship coaching, financial coaching, wellbeing coaching, business coaching, career coaching or any other type of coaching. By allowing your clients to fill in the segments with the areas they want to work on, it can be tailored to their specific needs and goals.
On our Life Coaching Diploma, we teach a variety of tools and techniques that can help with goal setting, mindset, and communication skills. The Wheel of Life is just one of the many tools we teach that can help clients to achieve their goals and create the life they desire.
Book your place on our free introduction to life coaching webinar and learn more about The Wheel of Life and training to become a life coach with us.